So, last month, I wrote a book. It's called Fadeout, and it's a NaNoWriMo novel. It's a kind of a crime/mystery thing with some, er, SF/horror/general weirdness elements thrown in for good measure. It's got a bit of suspense, romance, fistfights, a lot of cussin' and even an ending, although there was a point when that was by no means to be taken for granted.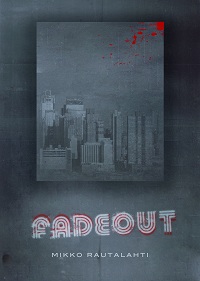 If you're not familiar with NaNoWriMo, here's the deal: the idea is to write a novel of at least 50,000 words during 30 days. Yes, this is a challenge, and yes, it means that you'll end up with something very first drafty and unpolished, and that definitely applies to Fadeout. I go into more detail about the process and the end result in the introduction I wrote for the book itself, but, you know, fair warning: it gets kinda rough in places! Still, it was a challenge (I almost hit 70,000 words), and I'm happy that I made it.
Showing something this rough to people is hard — seriously, it's like sitting down in a barber's chair and asking for a shave with a straight razor, and then insisting that the chair must be installed on a horse-drawn cart that races down a cobblestoned street. It's scary, putting out something like this. But just the same, I've decided to embrace the NaNoWriMo spirit and let people read it if they want to, because, goddammit, I took the challenge and I beat it, and it was worthwhile.
So, I've decided to publish Fadeout as an e-book. It's a .mobi file, which means it's compatible with Kindle and other e-book readers. If you don't have one, you can also read it on your computer and most mobile devices by downloading the free Kindle software.
You can download Fadeout here.
I'm not charging anything for this, this is a free download — to be frank, it doesn't feel right to ask for money for something that is so clearly a first draft, it's a little like baking half a cake and then charging money for it. That said, if you do download it, I'd appreciate it if you also made a donation to Amnesty International. They do very important human rights work all over the world, and they can't do it without support. Entirely up to you, but it'd be awesome.
The cover is by my friend Timo Vuorensola, who is a very cool guy, and you should check him out. He's currently working on a movie about Moon Nazis, which keeps him super busy, so I'm very grateful that he took the time to help me out.
Oh, and this is the first time I've actually constructed an e-book. I'm pretty sure I've done everything correctly (it seems to work just fine on my own Kindle, at least!), but if you spot something that doesn't work properly, please let me know so I can fix it.
Hope you enjoy it!
Exciting and Interesting Copyright Stuff
I've decided to go with a Creative Commons License for Fadeout.

Fadeout by Mikko Rautalahti is licensed under a Creative Commons Attribution-NonCommercial-NoDerivs 3.0 Unported License.
What this means in practice is that you can download the book, and distribute it however you please (Want to give a copy to a friend? Go for it!), but you can't alter the file in any way, you can't sell it or otherwise make money from it, and you have to say I made it.
10 Comments
RSS feed for comments on this post.
Sorry, the comment form is closed at this time.